Facilities and Station Layout
Summit Station is a remote research station that exists solely to support science. The station houses a variety of structures designed to support a highly variable population that ranges from a skeleton crew of four to six during the winter to peak summer populations of up to 45. The main station campus consists of the Big House, Green House/Berthing Module, and the Science and Operations Barn. Two outlying buildings — the Atmospheric Watch Observatory (AWO) and the Mobile Science Facility (MSF) — house year-round science experiments. Temporary summer structures are also used in support of science.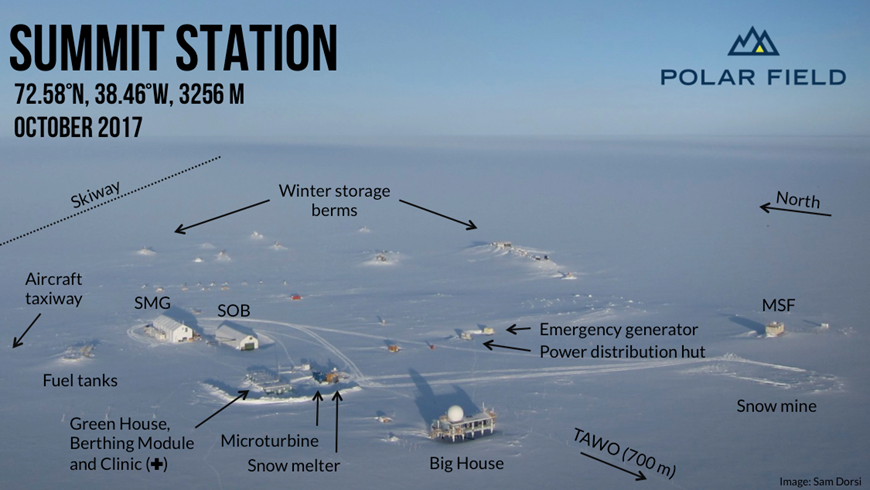 Big House
The Big House is a 26-feet-wide by 56-feet-long building that serves as the center of station activity. It contains the kitchen, dining area, communications office, and has a full bathroom and laundry facility.
Green House/Berthing Module
The Green House and Berthing Module are connected by an indoor vestibule. The Green House contains a laboratory, science office, emergency kitchen and communications, bathroom, laundry, two bedrooms, and a lounge. The Berthing Module — the main living quarters, connected to the Green House — has six bedrooms, a bathroom, and includes a small common area. The vestibule that connects the Green House and Berthing Module contains back-up communications and the Medical Clinic. This module is slated to be replaced by a new elevated berthing facility in July 2019.
Science and Operations Barn
The Science and Operations Barn (SOB) is nearly vacated with functions replaced by the Summit Mobile Garage (SMG). The structure will be demobilized in 2018 and 2019.
Summit Mobile Garage
The Summit Mobile Garage (SMG) supports operations at Summit Station and primarily serves as an equipment and maintenance shed. Space is also reserved for science operations requiring short-term large-volume warm space, such as equipment preparation or balloon launches. The SMG is 32-feet x 97-feet (9.7m x 29.5m) and is simply a steel frame covered with insulating canvas. The building is designed and engineered to be moved or, more aptly, moved by sled from place to place to prevent drifting and scouring.
Atmospheric Watch Observatory
The Atmospheric Watch Observatory (AWO) is one of two buildings at Summit dedicated solely to research. The AWO was constructed at Summit Station to serve as the home for NOAA's long-term observatory measurements and campaign observations with clean air requirements. The 150 square-foot facility is located on the edge of the Clean Air Sector one kilometer south of Summit Station, and is constructed of materials that will have a minimum of impact on the most sensitive of sampling instruments.
The elevated and heated facility is visited daily by two science technicians who are responsible for cleaning frost from outlets, keeping air sampling lines clear and monitoring the overall status of the experiments. The facility has clean and conditioned power, with continuous on-line backup power and a wireless connection to the station's internet. There is a 10-m tower platform attached to the building on which instrumentation can be mounted. This facility was moved in 2010 from its original location to its current location.
Mobile Science Facility
The Mobile Science Facility (MSF) is the second building dedicated solely to research. The MSF is located several hundred feet east of the Big House.
The MSF is a 16'x36' insulated, sled mounted facility for experiments requiring a climate-controlled operating environment, conditioned power and rack or roof access. It complements the AWO since it provides a platform for instruments that do not require access to the Clean Air Zone. The space is heated and has conditioned electrical power, backed up via a UPS. There is a substantial platform on the roof of the facility for mounting instruments with unobstructed view requirements. The facility is mobile to manage access in the high snow accumulation environment of Summit Station. It has been moved a short distance several times since its original construction in 2010. Provisions are installed to level the structure to better than 0.5 degree after each move and as needed. Since 2010 it has largely been dedicated to housing the ICECAPS experiment.
Clean Air and Clean Snow science sectors
In accordance with the Vision to develop Summit while maintaining pristine conditions for research, an extensive portion of the station is established for clean snow / undisturbed snow science. Furthermore, we actively maintain a clean air sector and enforce a clean air policy. These sectors may be seen in the Summit Station Site Plan.
Flux Autonomous Research Module
The Flux Autonomous Research Module (FLARM) structure has berthing for nine people during the summer and swing seasons. The FLARM is 30 square meters.
Mobile Berthing
The Mobile Berthing unit has eight berths used for the summer and swing seasons.
Tent City
Most summer visitors to the station sleep in Arctic Oven tents. Each double-walled tent houses one person and their gear. The tents are unheated, but warm-up in the summer sun.
Skiway
The skiway (snow runway) is 16,800 feet long and 200 feet wide. It is used by aircraft — primarily LC-130 and Twin Otter — to deliver personnel, cargo and fuel to the station. Fuel and cargo may also delivered by overland traverse. Summit receives regular flights during the summer season. In winter, phase change-over flights are supported by Twin Otter aircraft.